My Best Books of 2014: A Threeve
As the year draws to a close, I've been thinking quite a bit about my Book of the Year selection. It was a strong, strong year, right up until the very end. I wasn't able to finalize my selection until yesterday, when I finished Americanah. (Solid contender, but did not make the final cut. Though surprised by how much I liked it, I soon realized I'm that white person who wants to tell all her black friends how much she now understands their struggle. AS IF.)
Here, then, my top five books of 2014:
#5 - The Reason I Jump: The Inner Voice of a Thirteen-Year-Old Boy with Autism by Naoki Higashida (Non-Fiction)
That this memoir is written by a 13-year-old autistic boy is reason enough to check it out, whether or not you understand autism enough to realize how impossible the idea of an autism memoir seems. I'm no expert, but the autistic are generally trapped inside themselves, no? Higashida learned to use an alphabet grid to communicate his ideas, and the insights into how those with autism—and to a lesser degree, Asperger's and other social anxiety disorders—function. Fascinating.
#4 - The Martian by Andy Weir (Fiction)
The film adaptation of this book, starring Matt Damon, is due out next year. Beat the zeitgeist rush by reading it now. The titular character is not, in fact, a Martian, but a stranded astronaut. Will he manage to survive using his own derring-do in the face of impossible odds? No spoilers here.
#3 - Because I Said So!: The Truth Behind the Myths, Tales, and Warnings Every Generation Passes Down to Its Kids by Ken Jennings (Non-Fiction)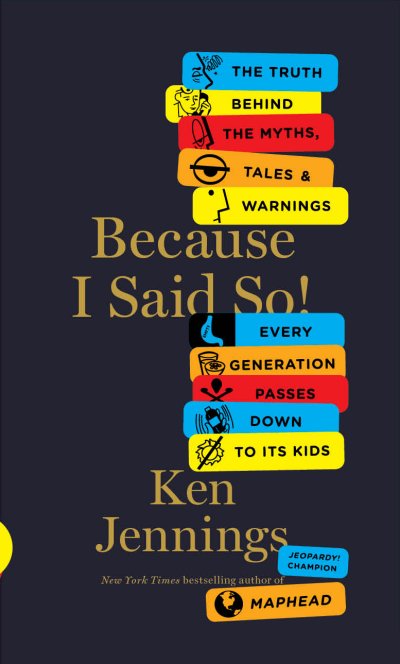 Most of what your parents told you is pure crap. Don't take this personally; their parents probably told them not to swim after eating or stare into the microwave, and that apple seeds were poisonous. But you know what? False, false, and FALSE. In this book, Ken Jennings (yes, THAT Ken Jennings) takes many of those parental edicts and either proves or debunks them. And guess what? Turns out that most of what we weren't allowed to do would have been totally fine. If you have procreated, read this and then let your spawn go crazy. If you haven't procreated, read this and then go crazy to make up for all those years you missed. I think this is what the kids mean when they say "yolo," correct?
#2 - Let's Pretend This Never Happened by Jenny Lawson (Non-Fiction)
I am just now joining the cult of the Bloggess, and I apologize for my tardiness. I can't describe this book better than Amazon did: "When Jenny Lawson was little, all she ever wanted was to fit in. That dream was cut short by her fantastically unbalanced father and a morbidly eccentric childhood. It did, however, open up an opportunity for Lawson to find the humor in the strange shame-spiral that is her life, and we are all the better for it."
#1 - Everything I Never Told You by Celeste Ng (Fiction)
Set in 1970s Ohio. About a Chinese man, his American wife, and their three kids. Put into motion when the favorite child is found dead. Calling this a murder mystery, though, is like calling To Kill a Mockingbird a courtroom drama. It's about family ties, the domino effect of small choices, racism, sibling rivalry, friendship, and more. Not since Gone Girl have I had such simultaneous, permeating feelings of dread and fascination while reading a book. Gripping. Not least because I saw in it many things still inherent in the Asian American experience today. The more things change, right?